The Zen Temple will be a new building in Kerameikos, especially designed for the practice of Soto Zen, Yoga and Martial Arts.
It will include a meditation area (Zendo) for 38 practitioners. A Martial Arts and Yoga practice space (Dōjō), 183 sqm, with the possibility of dividing the room and a rooftop, planted, rock garden. It will also include rooms for visiting teachers, as well as practitioners, on the 2nd and 3rd floors, a kitchen for the sesshin (intensive meditation) and a shop related to the activities of the center.
The architectural design of the Zen Temple is a reinterpretation of both traditional and contemporary Japanese architecture. In this great tradition there are important examples of architecture in which Zen philosophy is embodied spatially and experientially. In such examples, the site helps the visitor cultivate awareness and realize that his relationship to the world is not discontinued.
For example, the famous Ryōan-ji rock garden in the Shokokuji Monastery of Kyoto has a similar spatial concept and contributes tangibly to the above intention. Its 15 rocks are never visible at the same time. The visitor's visibility plane and the way they are positioned allow for viewing only 14 rocks from any perspective the observer stands. There is always one missing. In Buddhism, the number 15 symbolizes completeness or wholeness. Partial viewing of the rocks implies that with our limited perceptual powers of mind we cannot have a full experience of what we see. Hiding one rock at a time gives the feeling of a hidden unity that permeates the complexity of the phenomena.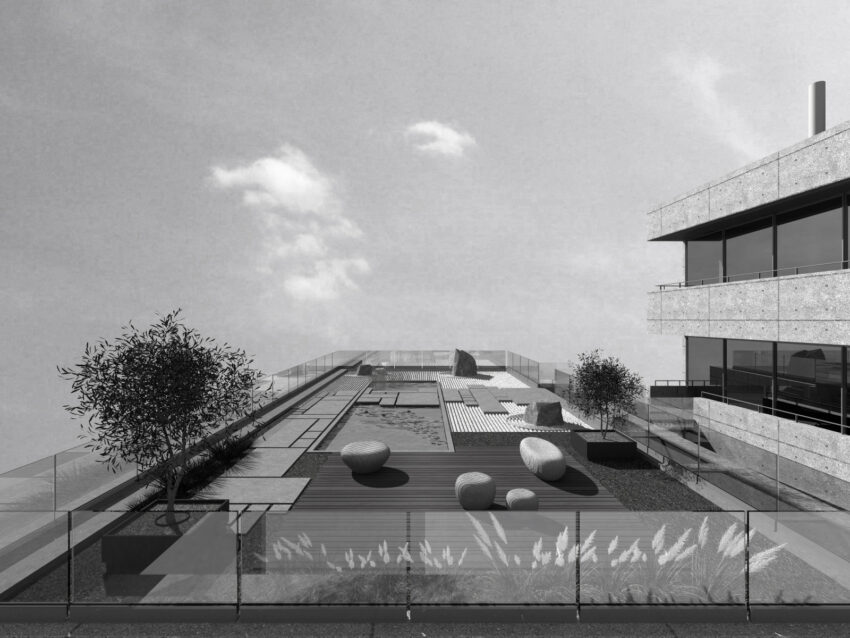 The shell of the building will be made of clear concrete, designed to refer to the contemporary Japanese architecture of the major architects, Tadao Ando, ​​Arata Isozaki, Kiyonori Kikutake, Kisho Kurokawa, Takamitsu Azuma, Yoshinobo Ashihara, and Yoshinobo Ashihara. 
Indoors will be dominated by wood. These wooden structures, through their simplicity, will refer to traditional Japanese woodwork. The creative re-interpretation of this valuable knowledge is evident in the shop and the reception.
Just as in Japanese painting, with the technique of fading ink, the immediate and spontaneous capturing of the moment is expressed, so with the same process, an attempt will be made, through structures, to capture the qualities of various products in the shop area. The wooden beams will extend beyond what is necessary, creating this sense of unraveled ink in the 3D space.
The special design of the lighting fixtures in some places will be an integral part of the composition and will be functionally and aesthetically part of the architectural set.
The initial design for the building was done by the ISV architectural firm and then all the interiors were remodeled by the YOLKSTUDIO architecture and design workshop. In the final design the shell of the building was largely kept the same and with respect to the spirit of Japanese simplicity, which existed in the original design, all the main and auxiliary areas of the Zen Temple were designed.